Slide 900 x 385 mm (L x B)
Stroke 2,000 mm
Payload up to 250 kg
Incremental Measuring System
Dynamic Linear Motor
High Repeatability
Granite Rail
The EZ-2310 linear axis is equipped with a 900 mm long slide, which is magnetically preloaded and runs on a stable granite base. The linear axis is designed to operate precisely even under high loads and offers plenty of space for customer-specific setups and sensor systems. A powerful linear motor from Tecnotion (UX12) ensures dynamic slide movement. In the standard version, the axis is equipped with an incremental measuring system (RSF). Deviating strokes can be realized on request.
Applications:
Inspection technology, sensor and camera positioning for inspection, electronics and PCB manufacturing, AOI (automatic optical inspection), automation processes.
In general:
Applications with high demands on dynamics, precision, repeatability, smooth scan movements.
| Type | Einheit | Wert |
| --- | --- | --- |
| Stroke | mm | 2,000 |
| Position Accuracy uncompensated (XTX) | µm | < 15 |
| Repeatability (bidirectional) 1) | µm | < 1 |
| Position Stability 1) | nm | 50 - 100 |
| Vertical/Horiz. Straightness (XTZ/XTY) | µm | 7 |
| Pitch (XRY) | μrad | 25 |
| Yaw (XRZ) | μrad | 25 |
| Max. Speed unloaded | m/s | 2 |
| Max. Acceleration unloaded | m/s2 | 10 |
| | | |
| Mechanical Data | Einheit | Wert |
| Dimension L x W x H | mm | 3,150 x 777 x 639 |
| Max. Load 2) | kg | 250 |
| Load Capacity vertical (Z) | N | 3,000 |
| Load Capacity lateral (Y) | N | 280 |
| Moment of Tilt around X | Nm | 25 |
| Moment of Tilt around Y | Nm | 20 |
| Moment of Tilt around Z | Nm | 70 |
| Moving Mass (slide) | kg | 85 |
| Total Mass (incl. slide) | kg | 2,600 |
| | | |
| Encoder | | Wert |
| Type | | incremental, RSF |
| Sensor Signal | 1 | 1 Vss |
| | | |
| Drive | Einheit | Wert |
| Type | | 3-phase, synchronous, ironless |
| Max. Voltage ph-ph | VAC | 230 (300 VDC) |
| Continuous Force | N | 384 |
| Peak Force | N | 1,960 |
| Continous Current | Arms | 3.6 |
| Peak Current | Arms | 18.4 |
| | | |
| Interfaces and Environment | Einheit | Wert |
| Air Consumption | Sl/min | 18 |
| Supply Pressure | bar | 5 |
| MTBF | h | > 20,000 |
| Limit Switch | | Yes (5 V) |
| Clean Room Suitability | | applicable |
| | | |
| Drive Control | | Wert |
| Standard | | Kollmorgen Servostar AKD / S300 / S700 |
| High end | | ACS Controller; Triamec |
1) depending on drive control
2) large mass moments of inertia must be taken into account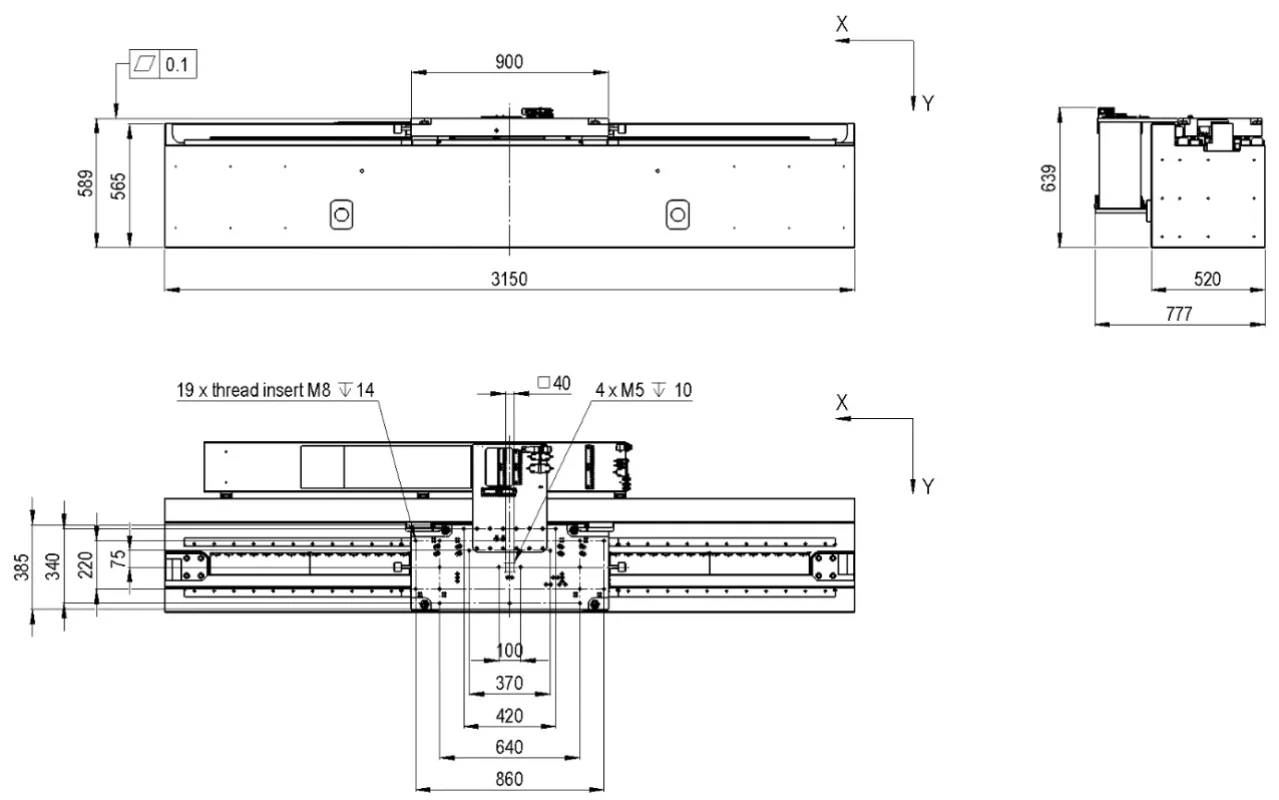 We offer the linear axis EZ-2310-2000 with the following drive controllers: