Slide 298 x 176 mm (l x w)
Stroke 300 mm
Payload up to 20 kg
Incremental Measuring System
Dynamic Linear Motor up to 2 m/s
High Repeatability
Granite Rail
The EZ-4360 linear axis was originally designed for use in measuring machines and for moving optical components. The almost 300 mm long slide travels on the granite with bearings located far to the outside, allowing the transmission of high tilting moments. The solid granite rail and the ZeroMetTM (Renishaw) scale guarantee good repeatability even with moderate temperature fluctuations. The slide is designed for payloads of up to 20 kg. Its surface offers plenty of space for customer-specific structures and sensors. The axis is driven by a linear motor (Tecnotion UL6). Due to the magnetic preload, the axis can also be operated vertically. An incremental measuring system (Renishaw TonicTM) is installed in the standard version. Deviating strokes can be realized on request.
Applications:
Electronics manufacturing, PCB manufacturing, inspection technology, non-contact 2D measurement, sensor and camera positioning for inspection, AOI (automatic optical inspection), automation processes.
In general: Applications with high demands on dynamics, precision, repeatability, smooth scan movements, short settling times.
| Type | Unit | EZ-4360 |
| --- | --- | --- |
| Stroke | mm | 300 |
| Positioning Accuracy (non-compensated) (XTX) | µm | 3 |
| Repeatability (bidirectional) 1) | nm | 50 |
| Position Stability 1) | nm | 30-100 |
| Vertical/Horizontal Straightness (XTZ/XTY) | µm | 2 |
| Pitch (XRY) | μrad | 10 |
| Yaw (XRZ) | μrad | 10 |
| Max. Speed unloaded | m/s | 2 |
| Max. Acceleration unloaded | m/s2 | 10 |
| | | |
| Mechanical Data | Unit | EZ-4360 |
| Dimension L x B x H | mm | 710 x 307 x 212 |
| Max. Load 2) | kg | 20 |
| Load Capacity vertical (Z) | N | 560 |
| Load Capacity lateral (Y) | N | 280 |
| Moment of Tilt around X | Nm | 25 |
| Moment of Tilt around Y | Nm | 20 |
| Moment of Tilt around Z | Nm | 70 |
| Moving Mass (slide) | kg | 7.5 |
| Total Mass (incl. slide) | kg | 77 |
| | | |
| Encoder | | EZ-4360 |
| Type | | incremental, Renishaw Tonic |
| Signal | | 1 Vss, RS 422 |
| | | |
| Drive | Unit | EZ-4360 |
| Type | | 3-phase, synchronous, ironless |
| Max. Voltage ph-ph | VAC | 230 (300 VDC) |
| Constant Force | N | 110 |
| Peak Force | N | 380 |
| Constant Current | A rms | 1.6 |
| Peak Current | A rms | 5.6 |
| Cable Length (open end) | m | 6 |
| | | |
| Interfaces and Environment | Unit | EZ-4360 |
| Air Consumption | Sl/min | 5 |
| Supply Pressure | bar | 5 |
| MTBF | h | > 20,000 |
| Limit Switch | | included (5V) |
| Clean Room Suitability | | applicable |
| | | |
| Drive Control | | EZ-4360 |
| Standard | | Kollmorgen Servostar AKD / S300 / S700 |
| High End | | ACS Controller; Triamec |
1) depending on drive control
2) large mass moments of inertia must be taken into account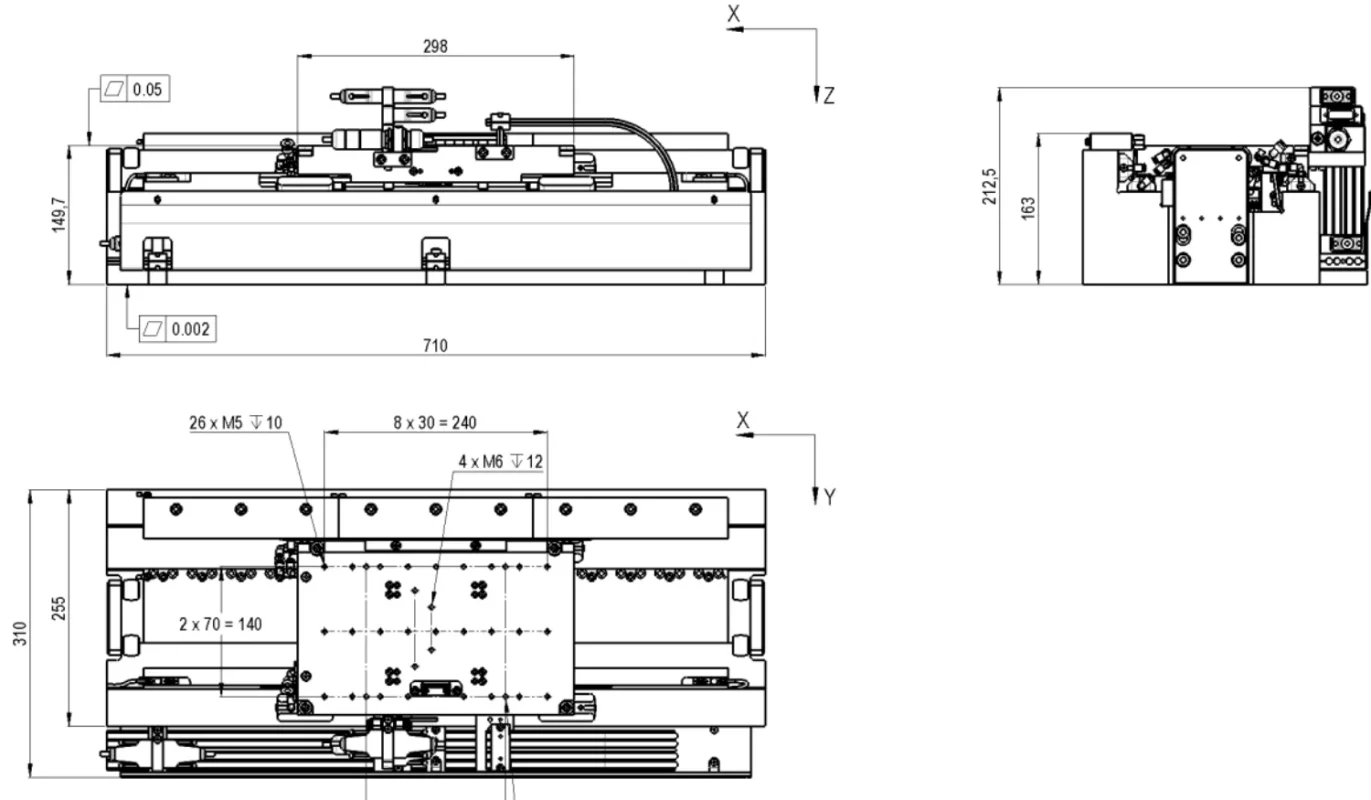 We offer the EZ-4360 linear axis with the following drive controllers: