Slide 210 x 140 mm (l x w)
Payload up to 10 kg
Linear Encoder incremental or absolute
Dynamic Linear Motor up to 2 m/s
High Positioning Accuracy
Low Mass
Stackable
The EZ-2542 Linear Axis is designed for loads of up to 200 N. A key feature of the axis is the angular arrangement of the air-bearing surfaces, which enables the very compact design. The slide is magnetically preloaded and dynamically driven by a Tecnotion UM9 N linear motor. The standard version uses an incremental measuring system from RSF, absolute measuring devices from Renishaw or Heidenhain (LIC) are optionally available. The aluminum rail (hard anodized) is available in 3 standard lengths, customized lengths can be supplied upon request. To realize simple cross tables, two axes can be stacked on top of each other.
Applications:
Electronics manufacturing, PCB manufacturing, inspection technology, non-contact 2D measurement, sensor and camera positioning for inspection, AOI (automatic optical inspection), automation processes.
In general: Applications with high demands on dynamics, precision, repeatability, uniform scanning movements and short settling times.
| Type | Unit | EZ-2542-150 | EZ-2542-250 | EZ-2542-350 |
| --- | --- | --- | --- | --- |
| Stroke | mm | 150 | 250 | 350 |
| Position accuracy uncompensated | μm | 1 | 1 | 1 |
| Repeatability (bidirectional) 1) | nm | 50 | 50 | 50 |
| Position stability 1) | nm | 30-100 | 30-100 | 30-100 |
| Straightness / flatness | μm | 3 | 4 | 5 |
| Pitch | μrad | 20 | 25 | 40 |
| Yaw | μrad | 20 | 25 | 40 |
| Max. velocity without load | m/s | 2 | 2 | 2 |
| Max. acceleration without load | m/s2 | 30 | 30 | 30 |
| | | | | |
| Mechanical Characteristics | Unit | EZ-2542-150 | EZ-2542-250 | EZ-2542-350 |
| Mounting position | | user-defined | user-defined | user-defined |
| Dimensions | mm | 140 x 400 x 64 | 140 x 500 x 64 | 140 x 600 x 64 |
| Max. permissible load | kg | 10 | 10 | 10 |
| Load capacity vertical (Z) | N | 200 | 200 | 200 |
| Load capacity lateral (Y) | N | 100 | 100 | 100 |
| Tilting moment around Y | Nm | 13 | 13 | 13 |
| Tilting moment around Z / X | Nm | 8 | 8 | 8 |
| Moving mass (slide) | kg | 2 | 2 | 2 |
| Total mass | kg | 6.8 | 7.8 | 11.2 |
| | | | | |
| Encoder | | EZ-2542-150 | EZ-2542-250 | EZ-2542-350 |
| Type 2) | | incremental (= standard) | incremental (= standard) | incremental (= standard) |
| Sensor signal | | 1 Vpp | 1 Vpp | 1 Vpp |
| | | | | |
| Drive | Unit | EZ-2542-150 | EZ-2542-250 | EZ-2542-350 |
| Type | | 3-phase synchronous ironless | 3-phasig synchron eisenlos | 3-phasig synchron eisenlos |
| Max. voltage ph-ph | VAC | 230 (300 VDC) | 230 (300 VDC) | 230 (300 VDC) |
| Continuous force | N | 66 | 66 | 66 |
| Peak force | N | 225 | 225 | 225 |
| Continuous current | Arms | 1.8 | 1.8 | 1.8 |
| Peak current | A rms | 6.2 | 6.2 | 6.2 |
| Cable length | m | 1.5 | 1.5 | 1.5 |
| | | | | |
| Environment and Interfaces | Unit | EZ-2542-150 | EZ-2542-250 | EZ-2542-350 |
| Air consumption | Sl/min | 4 | 4 | 4 |
| Supply pressure | bar | 5 | 5 | 5 |
| MTBF | h | > 20 000 | > 20 000 | > 20 000 |
| Limit switch | | optional (5V) | optional (5V) | optional (5V) |
| Clean-room suitability 3) | | applicable | applicable | applicable |
| | | | | |
| Empfohlene Antriebsregler | | EZ-2542-150 | EZ-2542-250 | EZ-2542-350 |
| Standard | | Kollmorgen Servostar AKD / S300 / S700 | Kollmorgen Servostar AKD / S300 / S700 | Kollmorgen Servostar AKD / S300 / S700 |
| High end | | ACS Controller; Triamec | ACS Controller; Triamec | ACS Controller; Triamec |
1) depending on drive control
2) alternatively absolute encoders are possible
3) depending on detail design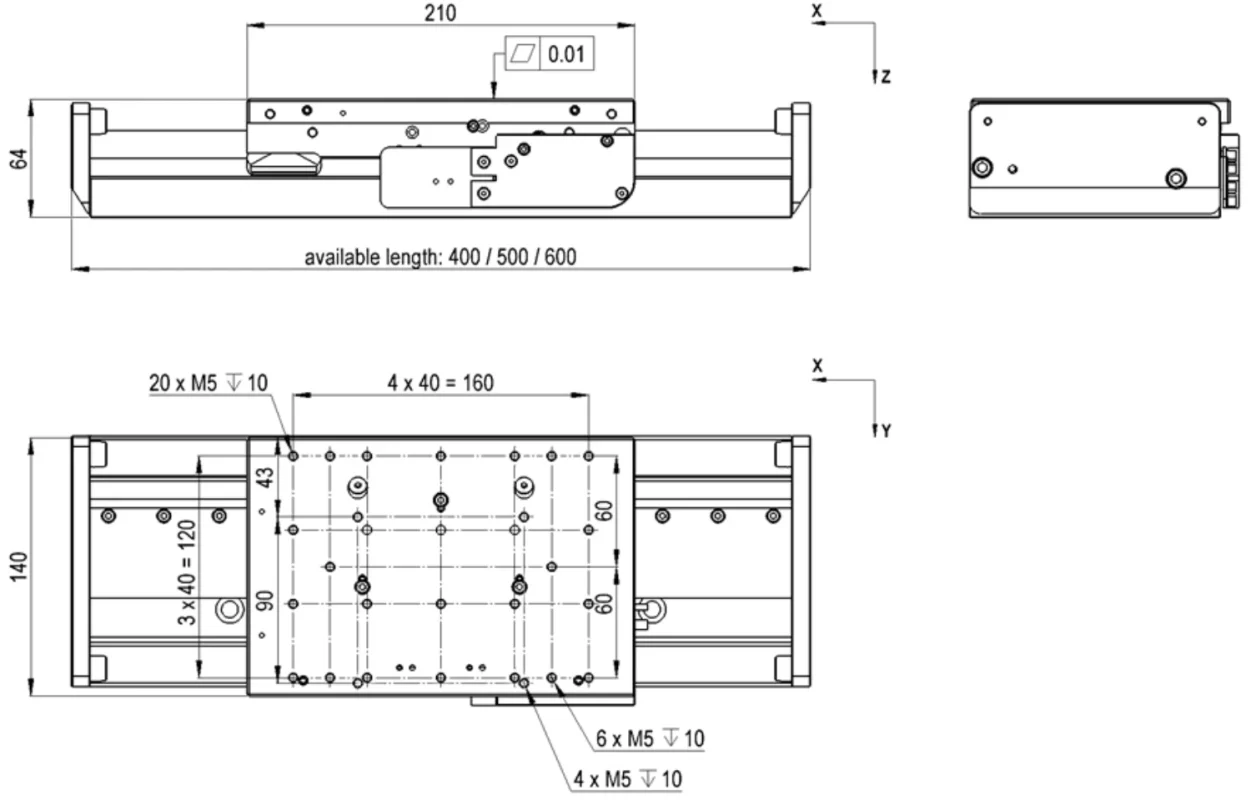 We offer the EZ-2542 with the following drive controllers: