Air Bearing Rotary Table with Direct Drive
Compact Design 115 x 115 x 49/60 mm
Radial Runout < 0.2 μm
1.000 rpm in Standard Version

1 Vss or with Interpolation (5x, 10x, 50x, 100x)
With its basic dimensions of 115 x 115 mm, the EZ-0675 is a very compact air bearing rotary table. The EZ-0675 is particularly suitable for precise positioning tasks in measuring machines or, mounted on linear axes, for aligning components or optical devices when being placed on linear axes. The turntable can be screwed on from above or below via four through holes with M6 and M4 threads. The integrated measuring system (Numerik RIK4) with 10,000 lines can be supplied either with interpolation (RS422 in 5, 10, 50 or 100-fold) or without (1Vss). Alternatively, the rotary table is also available as HT (High Torque) version. With the HT version, the overall height increases from 49 mm to 60 mm. Due to the magnetic preload, the EZ-0675 is self-locking when the supply air is turned off. It can be installed horizontally and vertically in any orientation. The materials used and the absence of lubricants qualify the rotary table for operation in clean room environments.
Applications: High-precision positioning and measuring systems, inspection tecnology, testing systems, calibration systems, optical alignment, applications with high demands on synchronization and/or repeatability of positioning.
| Type | Unit | EZ-0675 | EZ-0675 HT |
| --- | --- | --- | --- |
| Turning Range | ° | > 360 (unlimited) | > 360 (unlimited) |
| Error Motion axial (in the center) | μm | <0,2 | <0,2 |
| Error Motion radial (at 20 mm height) | μm | <0,2 | <0,2 |
| Runout Axial (along Ø 75 mm) | μm | 1 | 1 |
| Max. Speed 1) | rpm/min | 1000 | 1000 |
| | | | |
| Mechanical Data | Unit | EZ-0675 | EZ-0675 HT |
| Mounting Position | | unrestricted | unrestricted |
| Length x Width x Height | mm | 115 x 115 x 49 | 115 x 115 x 60 |
| Moving Mass (rotor) | kg | 0,4 | 0,4 |
| Total Mass | kg | 2,1 | 2,1 |
| Nominal Load Capacity axial push/pull | N | 160 / 40 | 160 / 40 |
| Max. Load Capacity radial | N | 60 | 60 |
| Nominale Load Capacity radial | N | 45 | 45 |
| Max. Moment of Tilt | Nm | 6 | 6 |
| Inertial Moment | kg*m2 | 0,001 | 0,001 |
| Material | | aluminium hardcoat/anodized | aluminium hardcoat/anodized |
| | | | |
| Encoder | Unit | EZ-0675 | EZ-0675 HT |
| Type | | incremental | incremental |
| Lines per Revolution | | 10.000 | 10.000 |
| Output Signal | | 1Vss / RS422 (interpolated) | 1Vss / RS422 (interpolated) |
| Interpolation Options | | 5-, 10-, 50-, 100-fold | 5-, 10-, 50-, 100-fold |
| | | | |
| Drive | Unit | EZ-0675 | EZ-0675 HT |
| Type | | synchronous, ironless | synchronous, iron-core |
| Intermediate Circuit Supply | VDC | 48 | 320 |
| Nominal / Peak Torque | Nm | 0,3 / 0,6 | 3,4 / 3,9 |
| Nominal / Peak Current | A rms | 2 / 4 | 5,6 / 7,6 |
| | | | |
| Interfaces and Environment | Unit | EZ-0675 | EZ-0675 HT |
| Supply Pressure | bar | 5 | 5 |
| Air Consumption | Sl/min | ca.12 | ca.12 |
| Cable Length | m | 1 | 1 |
| Clean Room Suitability | | applicable | applicable |
| | | | |
| Drive Control | | EZ-0675 | EZ-0675 HT |
| Standard | | Kollmorgen AKD P00606 / Servostar S300 | Kollmorgen AKD P00606 / Servostar S300 |
| High end | | ACS Controller | ACS Controller |
1) depending on interpolation value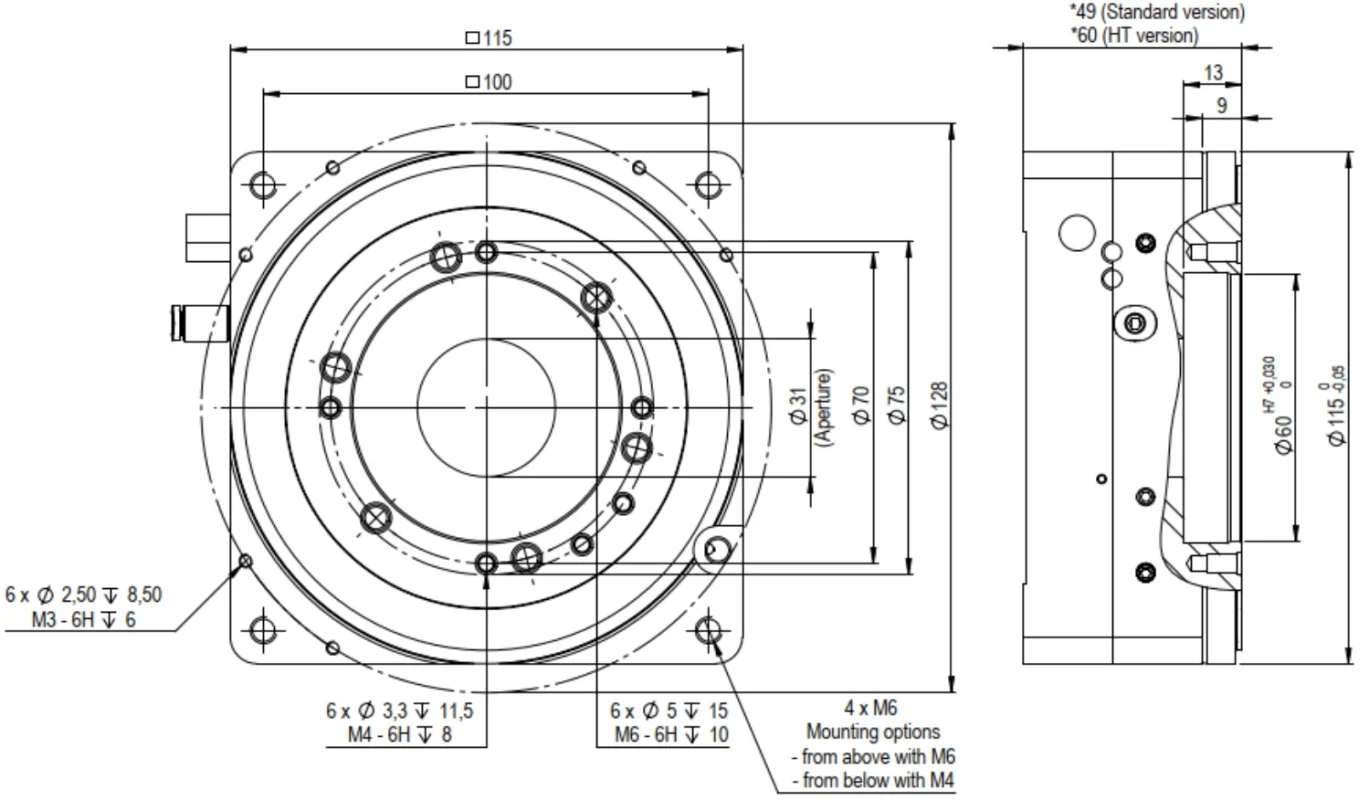 We offer the rotary table EZ-0675 with the following drive controllers: