Dimension (L x W x H) 397 x 130 x 120 mm
Max. Load Capacity radial 425 N
Max. Speed 3,600 rpm
Integrated Pneumatic Release Unit
Water-Cooled Asynchronous Motor
Torque 3 Nm
The robust air-bearing spindle EZ-0227 has proven to be particularly reliable for precision and fine machining. Due to the sealing air exiting via a labyrinth, it is also suitable for wet/lubricated production environments. The friction-free air bearing enables excellent axial and radial concentricity. The integrated Tonic FS measuring head from Renishaw is certified for functional reliability and allows a maximum speed of 3,600 rpm. The spindle is driven by a powerful water-cooled asynchronous motor with 3 Nm torque. With radial and axial load capacities of 425 N and 700 N, respectively, the spindle is ideal for high-precision turning, drilling and grinding processes. In the standard version, the spindle is equipped with a Schaublin W20 collet chuck or a Schaublin SRS W20 runout control system; other flange shapes and clamping systems are available on request. Two integrated rotary feedthroughs for compressed air/vacuum can be used to operate the pneumatic release unit and to blow off chips.
Applications:
Precision and fine machining, turning of optical glasses and technical optics, glass milling, grinding/polishing of optical lenses and displays for cell phones and tablets, micro-machining of optical and medical products.
In general:
For applications with high demands on dynamics and precision.
| Type | Unit | Value |
| --- | --- | --- |
| Turning Range | ° | > 360 (unlimited) |
| Error Motion axial | µm | ± 0.05 |
| Error Motion radial | µm | ± 0.1 |
| Runout radial at mounting flange | µm | 2.5 |
| Runout axial at spindle nose | µm | 1.5 |
| Max. Speed for 1 Vpp | rpm | 3,600 |
| Max. Speed for TTL | rpm | 290 |
| | | |
| Mechanical Data | Unit | Value |
| Dimension L x W x H | mm | 397 x 130 x 120 |
| Diameter Collet Chuck | mm | 0.3 to 12 |
| Weight | kg | 16.75 |
| Max. Load axial push/pull | N | 700 |
| Max. Load radial at spindle nose | N | 425 |
| Stiffness axial | N/µm | 120 |
| Max. Moment of Tilt | Nm | 90 |
| Material Housing | | aluminium |
| Material Rotor | | 1.4104 stainless steel |
| | | |
| Drive | Unit | Value |
| Type | | asynchrounous, water-cooled |
| Max. Speed | 1/min | 4,500 |
| Nominal Torque | Nm | 3 |
| | | |
| Clamping System | | |
| Schaublin SRS Runout Control System W20 | | |
| Schaublin Collet Chuck W20 | | |
| | | |
| Interfaces and Environment | Unit | Value |
| Supply Pressure | bar | 5 |
| Air Consumption | Sl/min | ca. 35 |
| Feedthrough for Vacuum/Compressed Air | number of outputs | 2 |
| | | |
| Drive Control | | Value |
| Standard | | SycoTec e@syDrive TV 4538 |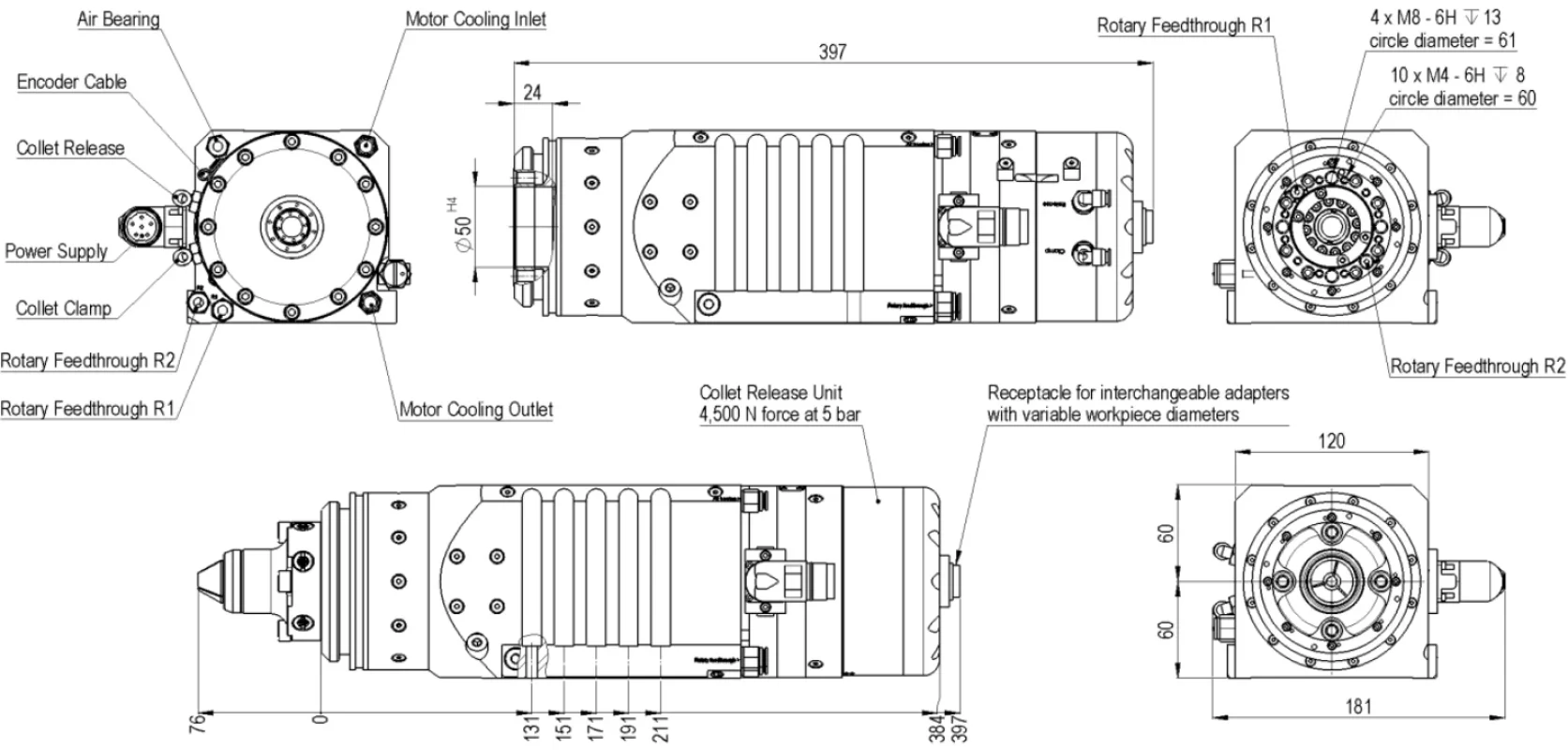 We offer the EZ-0227 spindle with the following drive controller: