EZ-2352-066 | Key Features
Slide 90 x 66 mm (L x W)
Payload up to 4 kg
Incremental Measuring System
Dynamic Linear Motor with up to 2,5 m/s
High Positioning Accuracy
Compact Design
Highly integrated construction and compact design make the axis versatile for high-precision positioning tasks with limited installation space. Despite its compactness, the axis offers good load capacities and tilting moments. It can also be installed in upright position or lying on its side. The linear axis is designed for small to medium-sized strokes with loads up to 30 N. The hard-coated aluminum slide is dynamically driven by a Tecnotion UC3 motor. Preload is achieved by magnet groups. The axis is equipped with an incremental measuring system from Heidenhain (LIK 21). The rail (chrome steel) is available in 2 standard lengths, deviating lengths on request.
Fields of application: Inspection technology, non-contact 2D measurement, sensor and camera positioning for inspection, electronics and PCB manufacturing, AOI (automatic optical inspection), automation processes.
In general: Applications with high demands on dynamics, precision, repeatability, smooth scan movements, short settling times.
| Type | Unit | Stroke 20 | Stroke 100 |
| --- | --- | --- | --- |
| Stroke | mm | 20 | 100 |
| Positioning Accuracy uncompensated | µm | 2 | 3 |
| Repeatability (bidirectional) 1) | nm | 50 | 50 |
| Position Stability 1) | nm | 30-100 | 30-100 |
| Vertical/Horiz. Straightness (XTZ/XTY) | µm | 1 | 3 |
| Pitch (XRY) | μrad | 10 | 25 |
| Yaw (XRZ) | μrad | 10 | 25 |
| Max. Speed unloaded | m/s | 2.5 | 2.5 |
| Max. Acceleration unloaded | m/s2 | 50 | 50 |
| | | | |
| Mechanical Data | Unit | Stroke 20 | Stroke 100 |
| Mounting Position | | unrestricted | unrestricted |
| Dimension L x W x H | mm | 131 x 75 x 39.7 | 600 x 75 x 39.7 |
| Max. Load 2) | kg | 4 | 4 |
| Load Capacity vertical (Z) push/pull | N | 350 | 350 |
| Load Capacity lateral (Y) | N | 90 | 90 |
| Moment of Tilt around Y | Nm | 5 | 5 |
| Moment of Tilt around X | Nm | 1.5 | 1.5 |
| Moment of Tilt around Z | Nm | 1.5 | 1.5 |
| Moving Mass (slide) | kg | 0.4 | 0.4 |
| Total Mass (incl. slide) | kg | 1.6 | 2.4 |
| | | | |
| Encoder | | Stroke 20 | Stroke 100 |
| Type | | incremental | incremental |
| Sensor Signal | | 1 Vpp, RS 422 | 1 Vpp, RS 422 |
| | | | |
| Drive | Unit | Stroke 20 | Stroke 100 |
| Type | | synchronous, ironless | synchronous, ironless |
| Intermediate Circuit Supply | VAC | 3-phase up to 45 VAC (60 VDC) | 3-phase up to 45 VAC (60 VDC) |
| Continuous Force | N | 8 | 8 |
| Peak Force | N | 28 | 28 |
| Constant Current | Arms | 0.7 | 0.7 |
| Peak Current | Arms | 2.5 | 2.5 |
| Cable Length | m | 1 | 1 |
| | | | |
| Interfaces and Environment | Unit | Stroke 20 | Stroke 100 |
| Air Consumption | Sl/min | 9 | 9 |
| Supply Pressure | bar | 5 | 5 |
| MTBF | h | > 20 000 | > 20 000 |
| Limit Switch | | without | without |
| Clean Room Suitability | | applicable | applicable |
| | | | |
| Drive Control | | Stroke 20 | Stroke 100 |
| Standard | | Kollmorgen Servostar AKD / S300 / S700 | Kollmorgen Servostar AKD / S300 / S700 |
| High end | | ACS Controller; Triamec | ACS Controller; Triamec |
1) depending on drive control
2) large mass moments of inertia must be taken into account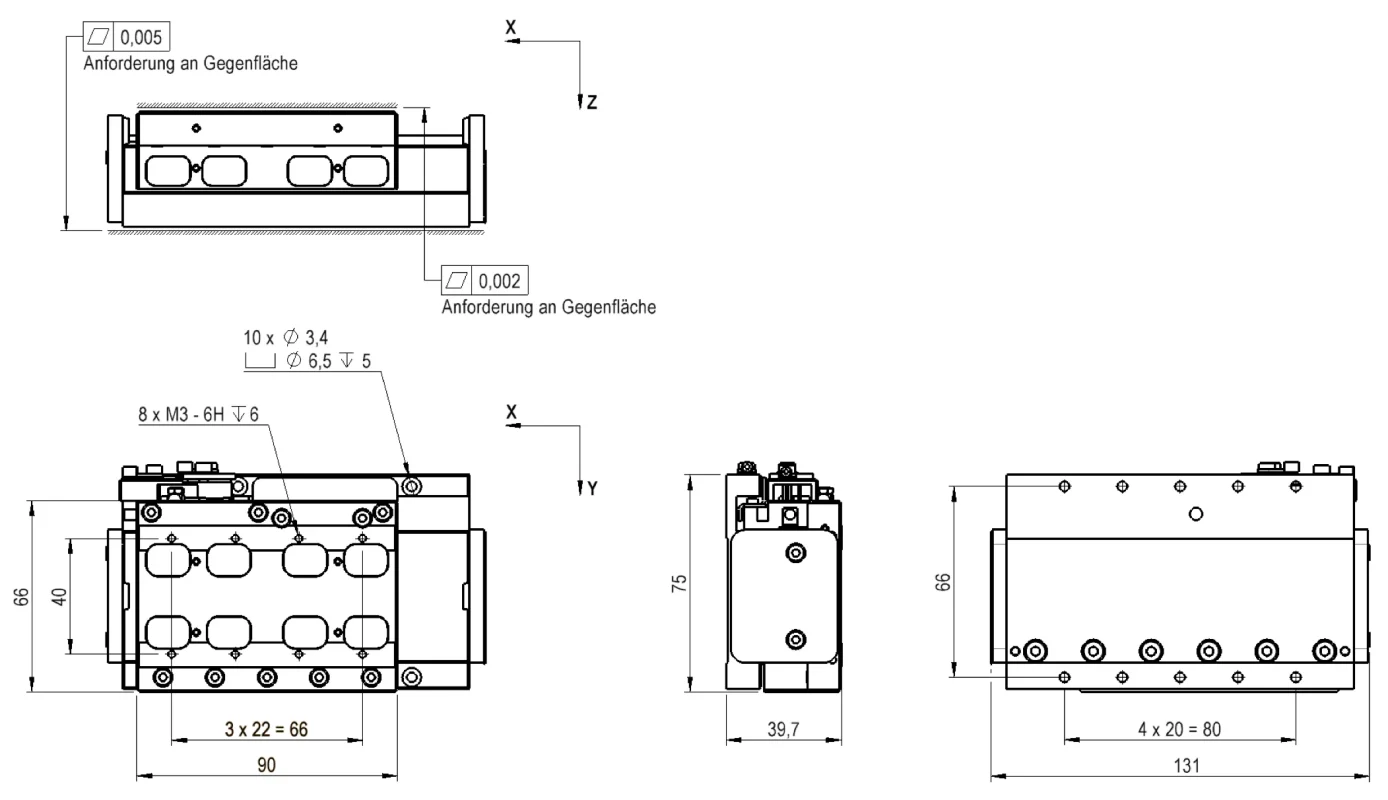 We offer the EZ-2352-066 with the following drive controllers: