Mounting Surface Slide 59.5 x 15 mm (l x w)
Payload up to 500 g
Without Measuring System
Without Drive
High Positioning Accuracy
Compact Design
Longer Guide Rails on Request
The linear axis consists of a guide rail and a slide. The slide is preloaded by magnetic force and, apart from a small Newtonian force, moves without friction. Due to the friction-free movement and the compact design the axis is ideal for beam guidance. The air-bearing axis is designed for small to mediumsized strokes with loads of up to approx. 500 g. The guide rail is made of stainless steel, the slide is made of hardcoated aluminium. The axis shown in this data sheet is without drive and measuring system, but can easily be equipped with a voice coil motor and measuring system. The linear axis can be extended by a second, mirrorinverted slide. The guide rail can be adjusted in length.
Applications: Beam guidance, positioning of optical components, mirror positioning, AOI (automatic optical inspection) inspection technology, photovoltaic production.
| Type | Unit | Value |
| --- | --- | --- |
| Stroke 1) | mm | 15 |
| Vertical/Horiz. Straightness (XTZ/XTY) | µm | < ±1 |
| | | |
| Mechanical Data | Unit | Value |
| Mounting Position | | unrestricted |
| Dimension Slide Mounting Surface L x W | mm | 59,5 x 15 |
| Dimension Guide Rail with Slide L x W x H | mm | 180 x 21 x 33.5 |
| Load Capacity vertical (Z) push/pull | N | 100 |
| Load Capacity lateral (Y) | N | 120 |
| Stiffness | N/µm | ca. 20 |
| Moving Mass (slide) | g | 22 |
| Total Mass | g | 354 |
| | | |
| Encoder | | Value |
| Type 2) | | without encoder/measuring system |
| | | |
| Drive | | Value |
| Type 2) | | without drive |
| | | |
| Interfaces and Environment | Unit | Value |
| Air Consumption | Sl/min | 9 |
| Supply Pressure | bar | 5 |
| MTBF | h | > 20.000 |
| Limit Switch | | no |
| Clean Room Suitability | | applicable |
1) standard version, other strokes are possible on request
2) additional equipment with a voice coil motor and measuring system is possible on request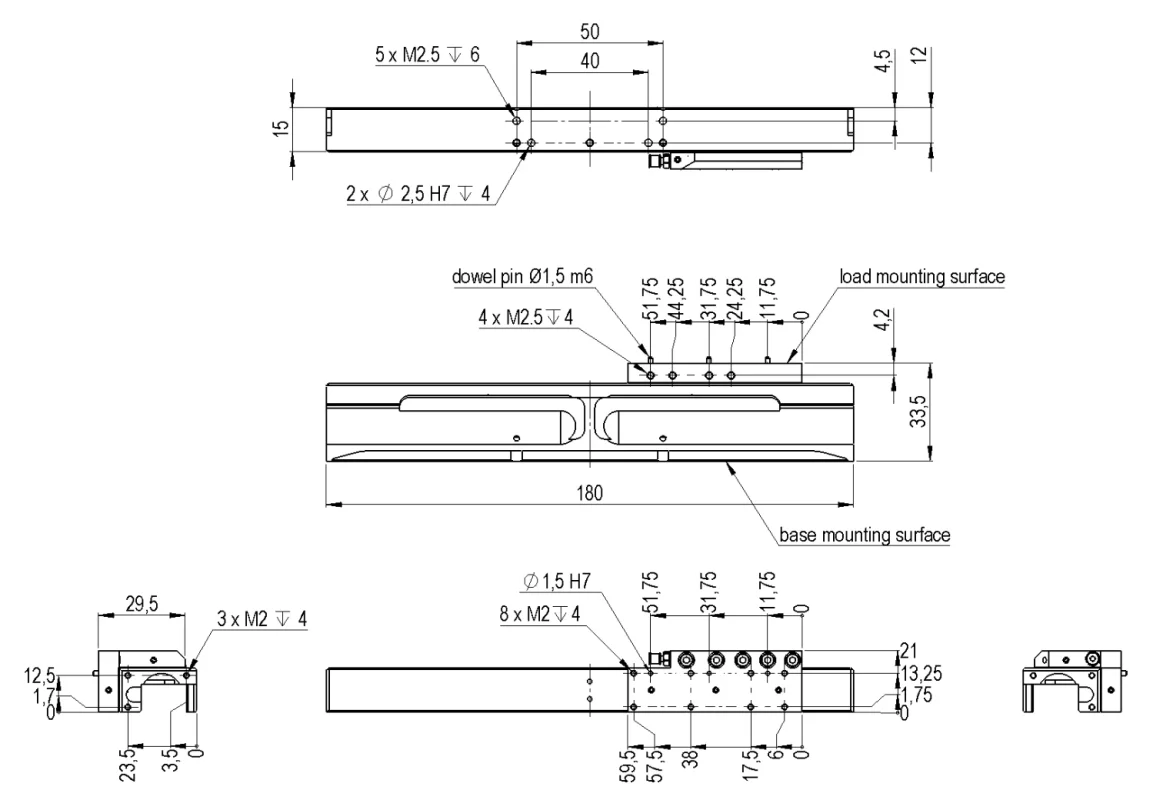 Design example: Axis with 2 air-bearing slides