High Precision Impulse Decoupled Stage
Y/X Stage with Vakuum Chuck
Ultra High Speed
Impulse Decoupled X Stage
Short Move and Settle Time
Repeatability in nm Range
Reduced Weight due to Carbon Components
Intelligent design gives the EZ-0730 stage maximum rigidity and excellent repeatability, minimizing axis crosstalk.
Built-in features:
Impulse decoupling to minimize crosstalk even at high accelerations.
Weight optimization by using carbon for the lower slide.
Use of carbon structures with thermal expansion close to 0 to minimize harmful temperature effects.
Extremely rigid chuck due to integrated flat 11-zone vacuum clamping device with high-precision tip/tilt adjustment using sophisticated pressure membrane technology.
Minimization of disturbance forces emanating from the energy chain due to novel drag chain concept.
Ironless drives and high-precision scales (Heidenhain LIP6 G0).
The machine bed is made of granite. The axes can be customized according to the customer's requirements.
Applications: High-precision positioning, scanning, exposure, laser engraving, laser processes in general.
| Type | Unit | Value |
| --- | --- | --- |
| Positioning Range | mm | 850 x 500 |
| Accuracy for Individual Axis, compensated | nm | < ± 250 |
| Differental Accuracy Y Axis, step to step (3σ) | nm | < 1 |
| Repeatability (3σ, bidirectional) | nm | X < 40 / Y < 20 |
| Position Stability Y at max. acceleration X | nm | < 2,5 |
| Settle Time X-Axis (stoke 4 mm, position error < 20 nm) | msec | 30 |
| Horizontal Straightness | μm | < 2 |
| Vertical Straightness (X Axis) | μm | < 3 |
| Pitch | μrad | < ± 4 |
| Yaw | μrad | < ± 3 |
| Tip/Tilt Adjustment Range | mm | 0.2 |
| Tip/Tilt Adjustability | μrad | < 1 |
| Max. Speed unloaded (X/Y) | mm/s | X = 1500 / Y = 500 |
| Max. Acceleration unloaded (X/Y) | mm/s2 | X = 80 000 / Y = 2000 |
| | | |
| Mechanical Data | Unit | Value |
| Lower Axis (X) | | active impulse decoupled |
| Dimension B x W x H (without drag chain, incl. air springs) | mm | 1280 x 1880 x 950 |
| Max. Payload (for dynamic applications) | kg | X = 5 / Y = 8 |
| Moving Mass Upper Axis (Y) | kg | 40 |
| Moving Mass Lower Axis (X) | kg | 26 |
| Total Mass | kg | 3200 |
| | | |
| Encoder | | Value |
| Type | | incremental |
| Signal | | 1 Vpp, 4 μm signal periode |
| | | |
| Drive | Unit | Value |
| Type | | 3-phase, synchronous, iron-core |
| Intermediate Circuit Supply | VDC | up to 300 |
| Constant Force X (2 drives) / Y | N | 564 / 58 |
| Peak Force X / Y | Arms | 26.6 / 5.5 |
| Back-EMK ph-ph X / Y | V/m/s | 101 / 30 |
| Force Constant | N/A | 124 / 36.3 |
| | | |
| Interfaces and Environment | Unit | Value |
| Supply Pressure | bar | 5 |
| Air Consumption | Sl/min | 35 |
| MTBF | h | > 20 000 |
| Limit Switch | | PNP |
| Clean Room Suitability | | applicable |
| | | |
| Drive Conrol | | Value |
| High end | | Triamec |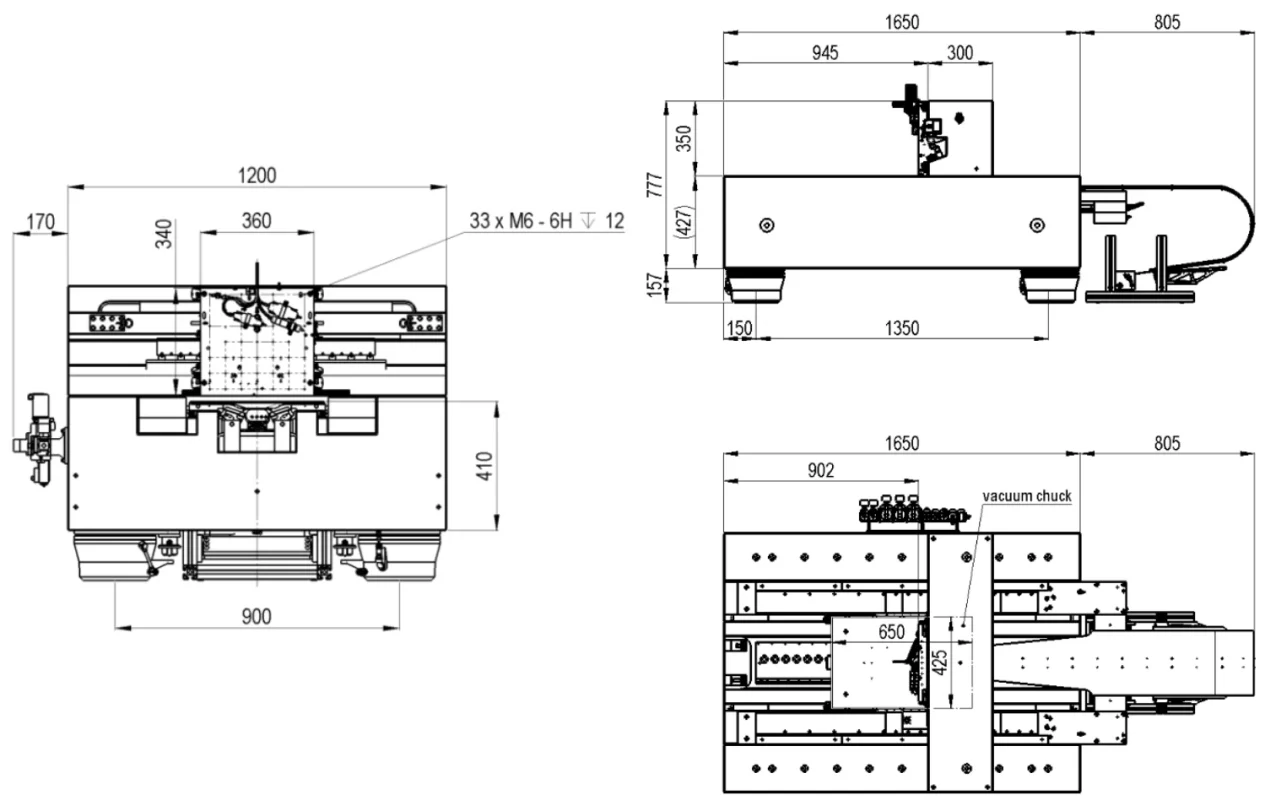 We offer the EZ-0730 stage with the following drive controller: