Travel Range 500 / 600 mm x 500 mm
High Accuracy
Max. Load 500 N
Coplanar Axis Movement
With and Without Bellows Cover
Suitable for Particle-laden Processes
The EZ-0714 gantry stage is designed for positioning tasks with high accuracy requirements, making it particularly versatile in use. Due to the optional equipment with bellows, the stage is suitable for particle-laden processes as well as for laser machining processes. The coplanar arrangement of the axes and the gantry design ensure very high repeatability and positioning accuracy. All air bearings are magnetically preloaded. Cable management is designed to minimize mechanical interference. The iron-core synchronous motors enable an acceleration of up to 10 m/s2 and a travel speed of up to 1 m/s. The machine bed is made of granite. Extention by a Z Axis is possible. The XY Stage is available in 2 sizes, with a travel range of 500 x 500 mm or 500 x 600 mm.
Applications: Positioning, scanning, exposure, laser engraving, laser processes in general.
| Type | Unit | 500 x 500 mm | 600 x 500 mm |
| --- | --- | --- | --- |
| Stroke | mm | 500 x 500 | 600 x 500 |
| Positioning Accuracy (non-compensated) | μm | ± 3 | ± 3 |
| Repeatability (bidirectional) 1) | nm | ± 50 | ± 50 |
| Position Stability 1) | nm | 50 | 50 |
| Vertical/Horizontal Straightness | μm | 3 | 3 |
| Pitch | μrad | 15 | 15 |
| Yaw | μrad | 10 | 10 |
| Max. Speed unloaded | m/s | 1 | 1 |
| Max. Acceleration unloaded | m/s2 | 10 | 10 |
| | | | |
| Mechanical Data | Unit | 500 x 500 mm | 600 x 500 mm |
| Mounting Position | | horizontal | horizontal |
| Dimension L x W x H | mm | 1408 x 1248 x 405 | 1612 x 1380 x 405 |
| Max. Load in Z | N | 500 | 500 |
| Moving Mass Y | kg | 45 | 45 |
| Moving Mass X + Y | kg | 113 | 113 |
| Total Mass | kg | 1413 | 1650 |
| | | | |
| Encoder | | 500 x 500 mm | 600 x 500 mm |
| Type 2) | | incremental | incremental |
| Sensor Signal | | 1 Vss, 20 μm signal period | 1 Vss, 20 μm signal period |
| | | | |
| Drive | Unit | 500 x 500 mm | 600 x 500 mm |
| Type | | 3-phase, synchronous, iron-core | 3-phase, synchronous, iron-core |
| Max. Voltage ph-ph | VAC | 400 | 400 |
| Continuous Force X / Y | N | 1280 / 480 | 1280 / 480 |
| Peak Force X / Y | Arms | 16 / 12 | 16 / 12 |
| Back-EMK ph-ph X / Y | V/m/s | 76 | 76 |
| Force Constant | N/A | 93 | 93 |
| | | | |
| Interfaces and Environment | Unit | 500 x 500 mm | 600 x 500 mm |
| Supply Pressure | bar | 5 | 5 |
| Air Consumption | Sl/min | 18 | 18 |
| MTBF | h | > 20 000 | > 20 000 |
| Limit Switch | | PNP | PNP |
| Clean Room Suitability 3) | | applicable | applicable |
| | | | |
| Drive Control | | 500 x 500 mm | 600 x 500 mm |
| Standard | | Kollmorgen Servostar AKD / S300 / S700 | Kollmorgen Servostar AKD / S300 / S700 |
| High End | | ACS Controller mit UDMpa Drive; Triamec TSD130 | ACS Controller mit UDMpa Drive; Triamec TSD130 |
1) measured with ACS amplifier
2) absolute encoder possible on request
3) without bellows, depending on detail design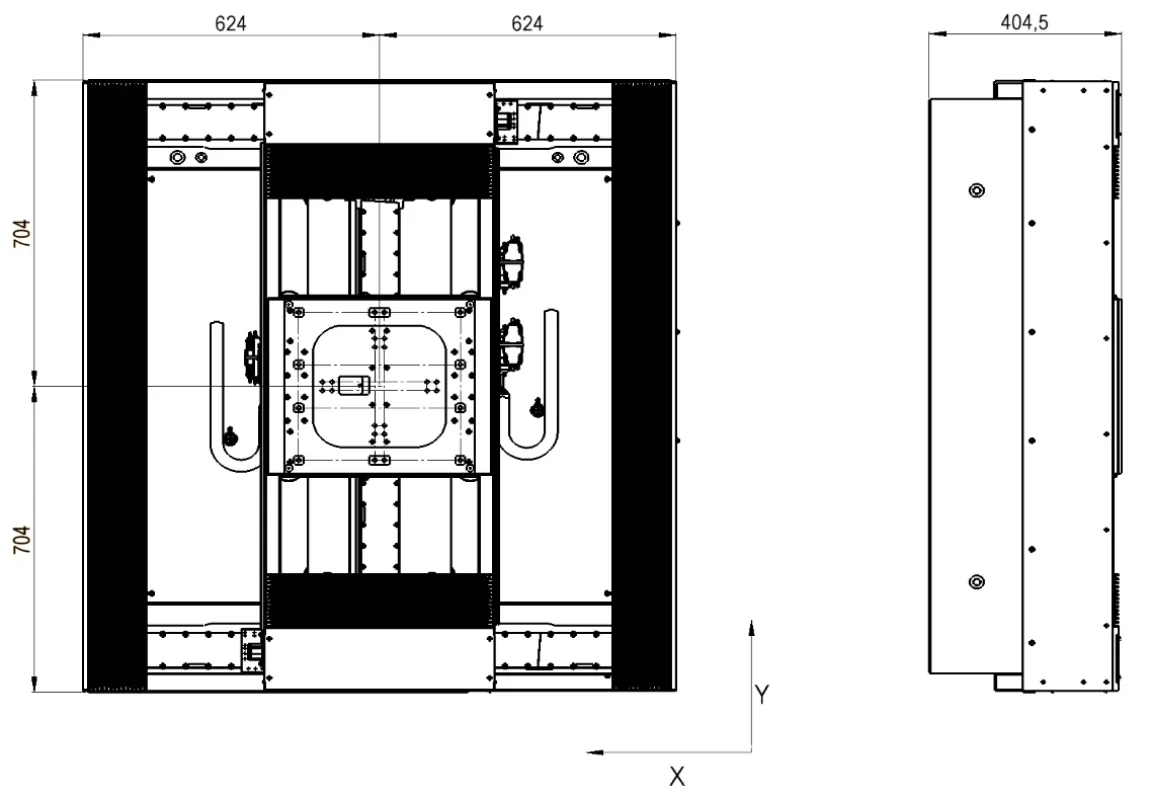 We offer the EZ-0714 with the following drive controllers: